hello,
well want to build a fertiliser mixer for my home grow system…
already have a esp32 controlling my grow environment…
like temp, soil temp, soil ec level … etc and fade my LED grow light in and out…
have also far red and uv led controlled by the esp32… run's all very well since two years…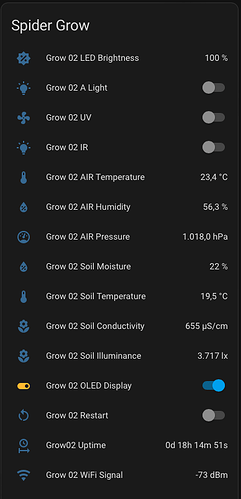 now i'll don't like to mix my fertilizer over and over… so decided to build my own…
after some research i'll found Mycodo… awesome… it's all there…
also to control my grow system …
first question:
can i'll connect the esp32 running ESPHome to Mycodo or do i'll need to change the system?
now the fertilizer mixer…
i'll get 10 peristaltic pumps and have L298N motor driver for those…
than i'll will use a PCA9685 PWM Servo to drive the L298N…
think that's fine and will work as i'll was looking what is supported…
my goal is to make a schedule for my grow period where i'll need to change the amounts of fertilizer over time for the different pumps … and when i'll found the optimum would be happy to save and share with others the mix…
is this also possible with Mycodo?
many thx
M.