Hello,
This is not a mycodo specific issue. I wanted to ask what is the easiest way to access mycodo remotely when the RPi is connected to a 4G router with no public IP.
Ideal situation
I would like to access mycodo from anywhere e.g. by typing https://mycodo.mygreenhouse.com in a browser.
Problem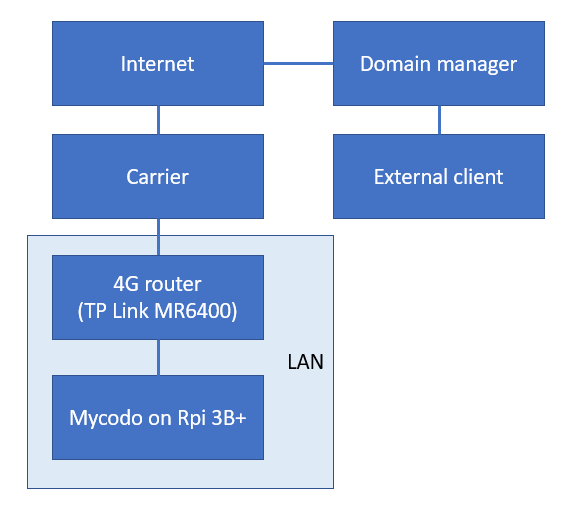 Mycodo is usually accessed by port forwarding from the router to the RPi. This works easily on the local network and can work on the external network as long as the router has a public IP. 4G routers may not have public IPs due to CGNAT (Carrier grade network address forwarding) which allows multiple SIM cards to share the same IP address. This prevents port forwarding from working and thus access from outside the network.
I have a domain which allows for the URL redirect to the router so this is not an issue.
Potential solutions
Switch from 4G to DSL - not really possible due to the fact that the RPi and router are sitting in a remote area (a farm)
Host mycodo on a cloud platform - would need a lot of development for a relatively small issue?
Obtain a static 4G IP from the carrier - I'm digging into it but it's unlikely to be possible
Use a VPN: my router (TP Link MR640) has some VPN capabilities, but I'm not sure how to set up the VPN (on the router? on the RPi? How does that interact with port forwarding? etc.).
Appreciate the input in advance !